About Us
Tricare™ – a caring, committed family business.
Based in Auckland, New Zealand and established by a respected New Zealand business couple, Val and Graeme Wallace, Tricare™ Nutrition Limited is a completely New Zealand owned and operated family business that is firmly planted in many centuries of pioneering tradition.
Val and Graeme have raised four healthy children, and they feel strongly about the importance of providing safe, top quality infant nutrition to give babies the best possible start in life. They are equally committed to their family values of hard work, integrity, innovation, no compromise on quality and always putting 'family first'.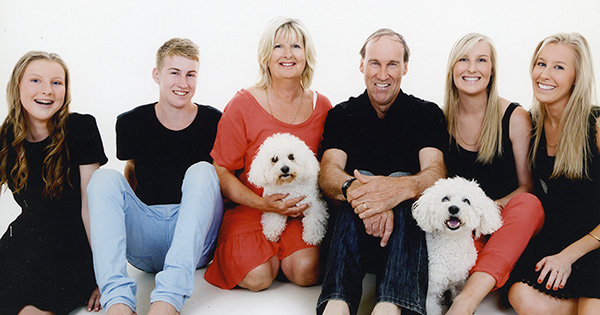 The Wallace family, growing with the land since 1884.
The Wallace family has enjoyed a reputation for innovation, reliability and sheer hard work since 1884, when 18-year old David McLean Wallace emigrated from Scotland to the untamed colony of New Zealand. He soon established a flourishing engineering business in the Waikato town of Te Aroha, all the while inventing and patenting many new products, including Wallace Milking machinery used by the majority of New Zealand dairy farmers.
In the mid 1920's, David and his sons developed and launched their most famous invention, the Wallace Pump, which today is exported to six continents around the globe. Since then, David's many descendants have continued to grow and develop innovative and successful business ventures throughout New Zealand. Graeme Wallace's father, Neil Wallace, was also a significant Dairy farmer in the Waikato, after working in the family business of D. McL Wallace Ltd, he went on to own and run two large Dairy farms located at Lake Karapiro also in the Waikato.
---
---

Graeme Wallace, Tricare™ Director
Graeme truly has dairy in his blood. He attended Massey University and Lincoln University, where he gained diplomas in Export and Wool Science. Since then, he has worked in major export companies, including NZ Co-op Wool Marketing, Marubeni Corporation Europe, Affco NZ and Chiquita Brands NZ Ltd. In 1997, he and Val established their own company, International Produce Limited, a successful export and import business handling a wide range of dairy, meat and horticultural products.

Val Wallace, Tricare™ Director
Val also has an extensive background in the dairy and horticultural industries and has been a director of International Produce Limited for over 14 years – as well as her busy role as a mother! Prior to that, she worked in PA roles for Managing Directors of various New Zealand Government ministries. These days, Val and Graeme are focused on their latest venture, Tricare™ Nutrition Ltd, a specialist dairy manufacturing and export company.

Professor Owen Young, Professor of Food Science, AUT
Professor Owen Young has an extensive background in agricultural food science. After completing his PhD at La Trobe University in Melbourne in 1973, he undertook post-doctoral study in California and New Zealand before working in the meat industry. During the past ten years in his role at the Auckland University of Technology, Professor Young has expanded his food interests into other areas, including the development of 'geographically exclusive' food products for international markets. Recently he has featured as the scientific food expert on the New Zealand television show "What's really in our Food" which examines the nutritional value of our food.
---
Company Credentials
You can see our New Zealand Certificate of Incorporation here and our New Zealand Dairy Exporters Certificate here.